Littleton School of Music
music school, music lessons, piano lessons, music instructors, piano instructors
PRIVATE MUSIC LESSONS FOR GUITAR, PIANO, VOICE, SINGING, MANDOLIN, UKULELE, VIOLIN, SAXOPHONE, BASS & MORE IN LITTLETON, COLORADO! **Online Lessons Available** Our patient and fun teachers get to know you and are passionate about your musical goals. Look for music lessons near me? We serve students from all over Littleton including Englewood, Centennial, Highlands Ranch, Denver, and Lakewood! The main reason to choose Littleton School of Music as your music lesson provider is that we are always aware that every single student is an individual and learns differently. All levels of experience are welcome.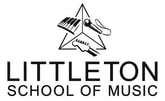 Littleton School of Music
6905 S. Broadway, Suite 99Littleton Colorado 80122United States
Follow Us On
music school, music lessons, piano lessons, music instructors, piano instructors
We love Littleton School of Music! Stephan has always been incredibly helpful and supportive of our family since the first inquiry phone call I made to the school years ago. He paired my 2 sons with the most incredible teacher, Anthony, who is such a positive influence for both boys with his passion for music and learning! I am so grateful I found Littleton School of Music...it has been a great fit for our family.
music school, music lessons, piano lessons, music instructors, piano instructors
This music school has been such a great place for my 8 year old son to learn piano. He has had two different teachers here and both have been so kind and patient. Stephan has been very communicative with any changes and updates and is always checking in to be sure our expectations are being met. Really great motivation/positive reinforcement system they use for lessons too!
music school, music lessons, piano lessons, music instructors, piano instructors
We could not be happier with the Littleton School of Music!! Everyone we've encountered there has been extremely kind and helpful. Stephan is a wonderful director (who always responds immediately!) and Louis is an amazing violin instructor to my 10 year old daughter (kind, knowledgable and very personable!)! We truly love being a part of this school and highly recommend it to all!
About Littleton
Littleton is a home rule municipality city located in Arapahoe, Douglas, and Jefferson counties, Colorado, United States. Littleton is the county seat of Arapahoe County and is a part of the Denver–Aurora–Lakewood, CO Metropolitan Statistical Area. The city population was 45,652 at the 2020 United States Census, ranking as the 20th most populous municipality in the State of Colorado. == History == The city of Littleton's history dates back to the 1859 Pike's Peak Gold Rush, which brought not only gold seekers, but merchants and farmers to the community. Richard Sullivan Little was an engineer from New Hampshire who made his way out West to work on irrigation systems.
Neighborhoods in Littleton, Colorado
Acres Green, Alkire Acres, Cay At Marina Pointe Condos, Chatfield Bluffs, Columbine Heights, Columbine Knolls, Columbine Townhomes, Dakota Station, Dutch Ridge, Foothill Green, Foothill Green South, Governors Ranch, Grant Ranch, Ken Caryl Ranch Plains, Kipling Hills
Things to do in Littleton, Colorado
Directions
Bega Park
Breckenridge Brewery
Charley Emley Park
Chatfield State Park
Chief Colorow Park
Colorado Journey Miniature Golf
Columbine Hills Park
Columbine Memorial
Cornerstone Park
Deer Creek Canyon Park
Denver Art Museum
Denver Botanic Gardens
Denver Botanic Gardens Chatfield Farms
Denver Museum of Nature & Science
Denver Zoo